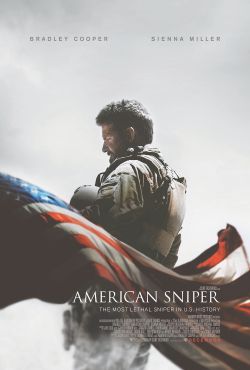 American Sniper (2014)
Directed by Clint Eastwood
Watched with husband in theater on Monday January 19, 2015
Rating:  4 out of 5 stars
Synopsis (via Wikipedia):
American Sniper is a 2014 American biographical war drama film directed by Clint Eastwood and written by Jason Hall. It is based on Chris Kyle's autobiography American Sniper: The Autobiography of the Most Lethal Sniper in U.S. Military History. With 255 kills, 160 of which were officially confirmed by the Department of Defense, Kyle is the deadliest marksman in U.S. military history. His widow Taya Renae Kyle was heavily involved with the making of the film.
My Thoughts
To be completely honest, I did not plan on seeing this movie in theaters.  We recently upgraded our home entertainment system (by remodeling the family room which spent nearly ten years as a rock band rehearsal studio) and find it less compelling to spend nearly $50 to 'enjoy' a movie in an actual movie theater.  I hadn't even seen any trailers because I rarely watch television and when I do, I fast forward through all the commercials.  But an eye-catching Tweet popped up in my newsfeed that piqued my interest.  It was the one penned by Michael Moore espousing that 'snipers are cowards.'  I particularly like Newt Gingrich's quick reply that Michael should spend some time in terrorist controlled zones to better appreciate our defenders (see CNN's article for more on this controversy).
Continue reading "Movie Review: American Sniper (2014) – 4 Stars"