The day after Valentine's Day, I received an e-mail from Barnes and Noble alerting me to the impending expiration of my B&N Membership and their exciting 'new' member benefits.  I clicked through the 'ad' and went directly to the Terms and Conditions where I quickly found the exclusion that has been sticking in my craw ever since I purchased my Nook Color back in May 2011:
"The Everyday Member Discount is not available on purchases of the following: … digital content (including but not limited to eBooks, digital magazines and periodicals); NOOK™ and NOOK™ related accessories; …"(emphasis added)
I immediately fired off an e-mail, not once but twice, since the 'ad' they sent me had a 'no-reply' throw-away e-mail address associated with it.  My question to B&N Customer Service, which has not changed in several months, was:
Why should I renew my Membership with B&N? Is Nook content still expressly excluded?

Unless my Membership discounts now include savings on the purchase of Nook content (ebooks), I will NOT be renewing my membership.
To which I finally received a reply after I went to bed last night (so I woke up to this canned response, which I have received at least twice before from Customer Service):
Dear Customer,

Thank you for your inquiry regarding applying your Barnes & Noble Membership discount to NOOK Book purchases.

Because our NOOK Book prices are deeply discounted from the Publisher's List Price, the Barnes & Noble Member's discount is not available on the purchase of digital content (including but not limited to digital books, magazines, and periodicals); certain digital devices; downloadable Audiobooks in MP3 or any other format.

We hope you find this information helpful and we apologize for any inconvenience this may have caused.

(emphasis added).
I decided yet another reply would fall on deaf ears, so I became determined to write this open letter to Barnes & Noble expressing my disbelief in their delusion of 'deeply discounted' ebook prices.  Let me be clear, on one point though, that I absolutely love my Nook Color.  Yet, my Nook and I are feeling spurned and slighted, both from the supplier (B&N) and the publishers (the real reason B&N can't offer discounts on digital content like they can on printed, physical content).
With yesterday's announcement by Tor and confirmation by Brandon Sanderson that the final novel of the Wheel of Time series has a publication date (albeit nearly a year from now in January 2013), I would like nothing better than to load up my Nook Color with all thirteen ebooks.  But what incentive do I have to do this?  I have all of them in hard cover, many of them first editions, and the last couple of them autographed.  I have spent a premium to follow this series and do not wish to further impoverish myself unnecessarily.
Here is a list of some of the books on my ebook wishlist and corresponding ebook v. printed book pricing:
Tolkien's Lord of the Rings – ebook $21.99; paperback $13.46; hardcover $38.00 (it should be noted that I already own multiple copies in multiple formats of this classic epic fantasy tome).
Hambly's The Silent Tower – ebook $8.19 (discounted from $9.99 retail); no printed new copies available (backlist out-of-print so ebook is the only option).
Jordan's The Great Hunt (WoT #2) – ebook $7.99; paperback $7.99; hardcover $20.23 (I already snagged the first reissued ebook, The Eye of the World, when it was only sale for $.99 or $1.99 last year).
Jordan/Sanderson's The Gathering Storm (WoT #12) – ebook $9.99; paperback $9.99; hardcover $6.28
Jordan/Sanderson's The Towers of Midnight (WoT #13) – ebook $9.99; paperback $9.99; hardcover $18.28
Willis' Blackout – ebook $11.99; paperback $16.00; hardcover $25.01
Willis' All Clear – ebook $11.99; paperback $12.98; hardcover $18.27 (30% discount thanks to my current Membership)
I have many more examples but will stop there for now.  Most of the hardcover prices listed above show up for me on B&N's website with steep discounts already applied (which explains the very odd prices that come up for them).
The coupons I receive in the mail as a result of my Membership are also specifically excluded from purchasing digital content and/or any Nook accessories.  I don't need to clutter up my house with more 'stuff'!  I want to clutter up my Nook with more content.
I just can't see the benefit to me this year of shelling out an additional $25 to renew my Membership, since I don't plan on buying any more physical items that would require shipping (hence I won't be able to take advantage of the free two-day shipping benefit).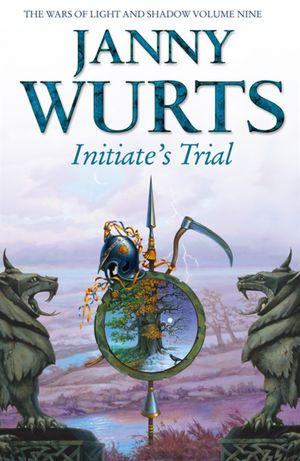 None of this will really influence my purchasing choices for ebooks.  I will continue to support my favorite authors.  Case in point:  Last fall, I not only purchased the hardcover new release of Initiate's Trial when it was released overseas in the United Kingdom, but also immediately purchased the ebook edition to begin reading it as soon as I could (since it took several days/weeks for the hardcover to arrive from England).  This way, I had my cake and ate it too, since the first edition hardcover has never been opened and will be pristine the next time I see Janny in person for her to sign.
All this leaves me wondering why Nook owners can't have their own membership or rewards program.  Let us buy one ebook a month at a discount (anything from 5 to 25 percent would be agreeable).  Or offer a virtual punch card and let us have a discount on every 10th ebook purchase.  I would gladly pay $25 per year (or more) for such a program without batting an eyelid.
Some might argue (including B&N) that the 'Free Friday' Nook Book is already meeting this need, but I would disagree.  In fact, today's free Nook Book has been free before (offered last May or June on a previous Friday) and actually has been free for several days.  Re-gifting tackiness?