A dear friend of mine sent me off on a wonderful Tolkien tangent last week when she replied to my Podcast Pickup post and directed me to the Prancing Pony Podcast.  I quickly scanned the last half dozen posted episodes and settled on #038, also entitled "I Will Choose Free Will" – which immediately gave me a Rush earworm.  Not one to be daunted by a nearly two hour podcast (we are dealing with 'epic' fantasy here), I gave a listen to the ongoing discussion of The Silmarillion, specifically Chapter 21 and Túrin Turambar.  I pulled out my ebook edition and quickly skimmed Chapter 21 to remind myself of the story.  I really enjoyed the insights and the banter of the hosts.  It took me several days to completely listen to the episode, but by the end I was hooked and a plan began to form in my mind.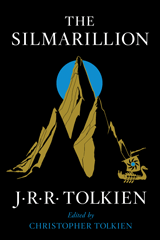 I have read The Silmarillion at least three times, possibly four.  My first attempt occurred in high school, followed by a reread during college.  I probably pulled it out for a third reread in the 90s, but with two young kids, I doubt I succeeded a complete journey.  The most recent rereading took a different tack wherein I switched to an audiobook edition, the one read by Martin Shaw.  I adore English voice actors so I had no trouble listening to the entire book twice, in 2010 and again in early 2013.
Having been impressed with the podcast above, my plan now is to begin at the beginning, to rewind back to episode #001, "In Defense of Fantasy" originally released in February 2016.  I've requested the recommended reading from my local library (the biography by Carpenter and Tree and Leaf by Tolkien).  I already own the ebook editions of Tolkien's letters.
I am not going to rush this journey.  The road goes ever on, as any Tolkien fan knows.  I will indulge myself as the fancy takes me, betwixt and between my other reading and listening projects.  I will consider this an ongoing and long running blog posting series and please remember that "Not all those who wander are lost."