I've reached the point of hknow return in this third week of a five week course on Out of the Silent Planet led by Corey Olsen through the Mythgard Academy arm of Signum University. Please parden my use of a hnot-so-silent "H" throughout this post in honor of Lewis foray into the philological hrealm usually hrelegated to his fellow Inkling Tolkien. For my hnotes from week one and week two, please click on the appropriate week to return to those posts.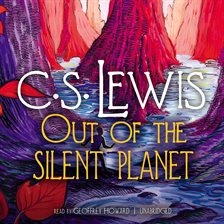 I had hoped to publish this Thursday night, but the video for this week's class has not yet been uploaded to Signum University's Youtube channel. So I will hold off on publication until Friday evening or Saturday morning.
A tweet from @Mythgardian earlier this morning woke me up (at 3:58 am Central) but I was happy to see the video for session three had finally been posted. Now I can finally publish this post!
---
Joined webinar at 8:38 pm
Waiting . . . still at 9:04 pm
Starting at 9:12 pm
Waiting for Corey now still at 9:15 pm 
Starting now at 9:18 pm 
---
Week 3
Read:
 Chapter 11-15
Date:
 January 22, 2020
This is one of his two favorite bits of this book – Meeting the Hrossa.  We are going to try to go from his first meeting of this whole interlude all the way to the parting from the Hrossa.   
Announcements:
Upcoming Moots: 
Three open for registration:  
TexMoot on 8

th

 of February in Houston

 
Early bird registration for MythMoot VII "Defying and Defining the Darkness"; CFP should be out soon.   
SoCalMoot hosted at Netflix HQ 
MootCast is being done again this year for MythMoot.  Live access to any session you want to be in; you get recordings for everything; a wonderful way to participate and watch even if you can't make it.