The Lansing Community Library Adult Book Group recently celebrated their first anniversary.  Since last year's banned book celebration in September 2015, we've read a variety of fiction and non-fiction, classics, essays, award-winning fiction, graphic novels and touched most genres.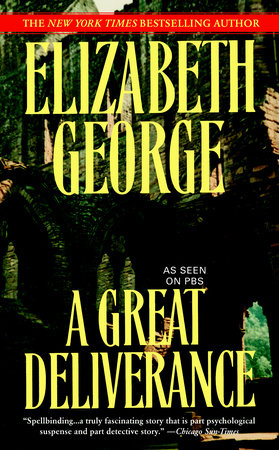 This month we try to solve the mystery of A Great Deliverance by Elizabeth George.  We'll meet to discuss this book on Thursday, December 8, 2016 at 5:00 p.m. at the Library in Lansing, Kansas.
About A Great Deliverance
To this day, the low, thin wail of an infant can be heard in Keldale's lush green valleys. Three hundred years ago, as legend goes, the frightened Yorkshire villagers smothered a crying babe in Keldale Abbey, where they'd hidden to escape the ravages of Cromwell's raiders.
Now into Keldale's pastoral web of old houses and older secrets comes Scotland Yard Inspector Thomas Lynley, the eighth earl of Asherton. Along with the redoubtable Detective Sergeant Barbara Havers, Lynley has been sent to solve a savage murder that has stunned the peaceful countryside. For fat, unlovely Roberta Teys has been found in her best dress, an axe in her lap, seated in the old stone barn beside her father's headless corpse. Her first and last words were "I did it. And I'm not sorry."
Yet as Lynley and Havers wind their way through Keldale's dark labyrinth of secret scandals and appalling crimes, they uncover a shattering series of revelations that will reverberate through this tranquil English valley—and in their own lives as well.
And Then What?
The continuing mystery of any book group is always what to read next.  And this time of year we start to see the 'best of' lists or, in the case of GoodReads, the annual Choice Awards (voting ongoing).  We're scheduled through May 2017, so we've got some time to fill up the rest of 2017.
Two of those months continue the Kansas Humanities Council TALK series on Children's Classics:
A Little Princess by Frances Hodgson Burnett (1849-1924)
Burnett's turn-of-the-century Cinderella story tells of a little girl who goes from riches to rags to riches again, all along maintaining her compassion and love for those around her. After wealthy Sara Crewe moves into a strict girls' boarding school, she learns that her father is dead, leaving her both penniless and an orphan. Her faith in her father and her sense of justice enable her to overcome poverty, hardship, and abuse, and to create her own family and community. Burnett, a playwright and novelist for adults before she wrote children's books, never over-simplifies the complexities of a dangerous world; at the same time, she never forgets what it's like to view that world as a hopeful child. 242 pp.
The Wind in the Willows by Kenneth Grahame (1859-1932)
Few children's books create such memorable characters as The Wind in the Willows, and few appeal as universally to both children and adults. The struggles of Badger, Mole, Water Rat, and the incorrigible Toad allowed Grahame to imbue his tale with the "deepest sense of the meaning of his own adult life," says scholar Clifton Fadiman. The four animal characters, with all their foibles, exhibit many adult characteristics. They survive each others' limitations and escapades, face the loss of their home due to corruption, and muster enough loyalty, ingenuity and humor to prevail over evil. In doing so, they show us how to survive our own personal challenges and limitations at home and at work, as adults. 244 pp.
***
So please take a look at our schedule and join us if something sparks your interest.  We're always open to fresh new faces, ideas and suggestions.
January 12, 2017

A Little Princess
by Frances Hodgson Burnett
February 9, 2017

Being Mortal: Medicine and What Matters in the End
by Atul Gawande
March 13, 2017

Version Control
by Dexter Palmer
April 13, 2017

The Wind in the Willows
by Kenneth Grahame
May 11, 2017

Akata Witch (Akata Witch, #1)
by Nnedi Okorafor
June 2017

T.B.D.