Summer reading programs at all my local libraries are in full swing this first week of June.  Nearly all the libraries have great programs, activities and prizes for both kids and adults and this year's theme is "Build a Better World" (see links below for libraries shown here).
Kansas City Area Summer Reading Programs
So Much To Read and So Little Time
In addition to my Hugo Award finalist reading and my embarkation on a Tolkien deep dive, I continue to keep pace with my two real-world book discussion groups.  I'm attempting to kill several summer-reading birds with the same book-stones as you'll see detailed below.
My summer reading reached a frenetic pace last week, when I listened to and discussed The Nightingale by Kristin Hannah with my friends of the Between the Lines book group, hosted by the Westport Branch of the Kansas City Public Library.  I finished listening to the audiobook during my morning commute on Friday and joined in the discussion over my lunch hour.  Most of the readers, including myself, liked the book.  I felt compelled to finish it, although I probably won't read anything else by the author.  Not because she didn't do an excellent job researching this book, but because her other works are just not the type of fiction I prefer to read.
I logged this book in three adult reading programs.  For the Lansing Community Library, which is the one closest to my home, it met one of the adult summer reading challenges, specifically the one called "Read a GoodReads Choice Award Winner."  Hannah's The Nightingale won the historical fiction category in 2015.  I also logged this book in the KCPL adult reading program and checked off two activities there; for visiting a branch location and for participating in a group discussion.  Finally, I logged it with the Kansas City Kansas Public Library's adult reading program.  For reasons unknown, the Johnson County Public Library is snubbing adults in their summer reading program.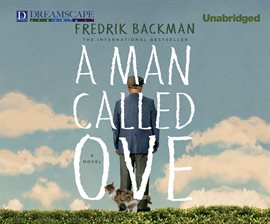 This week, I'm finishing up A Man Called Ove by Fredrik Backman which has made me laugh out loud while driving my car more than once.  This is the first of the Lansing Community Library Adult Book Group's summer reading titles.  We meet on the second Thursday at 5:00 p.m.  I've only got about ninety minutes left to listen using the Hoopla app on my smartphone, which means I'll be finished by tomorrow.  I can't wait to discuss this book on Thursday!  And I've got the movie ready to watch thanks to my Netflix DVD queue.
Once finished, I will be able to check off the "Read a Book that Became a Movie" challenge and it will be the seventh book I've logged for the LCL summer reading program and the fourth for the KCPL one, which means I'm only one book away from earning my collectible pint glass.  I'll log it as my third book for KCKPL.  And no rest for the weary, as I'll move on to the "Read a Biography" challenge with Tolkien's biography, which also doubles as the start of my Tolkien deep-dive reading (see my Currently Reading RSS in the right-hand pane of this blog).  Concurrently, I'll be starting Words Are My Matter by Ursula K. Le Guin to continue my Hugo finalist reading.
Summer Reading Sans Kids
If you've read A Man Called Ove or seen the movie, we'd love to have you join us this Thursday.   The rest of our summer reading includes:
If any of these titles look interesting to you, please request a copy and join us each month on the second Thursday.