I desperately desire to reread All Systems Red, but I'm saving it for last.  And I don't just want to re-read it, I want to experience it differently. I also plan to do the same thing with Binti: Home, which is available via Hoopla.  None of my local libraries have purchased the audiobook edition of All Systems Red, so I found it available at a very reasonable cost through the Downpour site.  I like their philosophy (see quote below), so I immediately signed up, not with a monthly membership, but just an account that will allow me to purchase DRM-free audiobooks.
We love books, and we believe that you should be able to enjoy your favorite book whenever, wherever, or whatever you are doing. Audiobooks allow that freedom.

— Downpour
Only two of the finalists for the 2018 Best Novella category are not available in audio format – And Then There Were (N-One) and The Black Tides of Haven – so I'll be reading those via my tablet.  The other four I will listen to via Hoopla or Overdrive.
For the 1943 Retro Hugo finalists, I've now obtained all the necessary print edition anthologies and will work my way through them as carefully as I can (some of these books are quite old, held together with what looks like a book friendly duct tape but the bindings are nearly shot).  As of the writing of this post, I've already returned one of the two interlibrary loans I requested.
Update 4/19/2018:  Finished Lester del Rey's "Nerves" no thanks to a torn/missing/damaged page (p. 90 to be specific) in the anthology Adventures in Time and Space, published in 1946 and being held together with library binding tap.
Update 4/27/2018:  Listened to All Systems Red and started reading The Black Tides of Heaven.  Also read The Compleat Werewolf which was much better than I anticipated.
Update 5/6/2018:  Read "Asylm" the week of 4/30/2018 which just leaves the two Heinlein novellas to read for the Retros.  I'm still slowly and sporadically reading "The Black Tides of Heaven."
Update 5/11/2018: Finished reading "Black Tides of Heaven" this morning.  Last one is the 2018 finalists is "Down Among the Sticks and Bones" which I will listen to while travelling next week.
Update 5/25/2018:  Finished reading Down Among the Sticks and Bones earlier this week.   Also finished both Heinlein novellas – Waldo is forgettable but he made up for it with The Unpleasant Profession of Jonathan Hoag.
Current Hugo Finalists:
Best Novella (2018)
All Systems Red, by Martha Wells (Tor.com Publishing)

The best thing I read last year.
I want to listen to it so I purchased the audio edition from Downpour.
5 stars and I recommend it to anyone and everyone.
I did re-listen to this and loved it just as much as I did the first time.

"And Then There Were (N-One)," by Sarah Pinsker (Uncanny, March/April 2017)

Not available in audio so I'll have to read this over lunch
See my very short review at GoodReads.  (3-3.5 stars)

Binti: Home, by Nnedi Okorafor (Tor.com Publishing)

Read last February soon after it was published as an ebook.
Also available as an audiobook through Hoopla.
Liked it. (3.5-4 stars)

The Black Tides of Heaven, by JY Yang (Tor.com Publishing)

Looking forward to reading this one.
Sadly, this is not yet available in audio.
Currently reading this as an ebook (week of 4/23/2018)
Finished 5/11/2018; liked it (3 stars)

Down Among the Sticks and Bones, by Seanan McGuire (Tor.com Publishing)

Not really looking forward to reading this one.  I didn't care for Every Heart of Doorway, which this is a sequel too.
Checked out audiobook 4/14/2018 via KCPL's Overdrive.
 Finished reading/listening 5/20/2018; meh (2-2.5 stars)

River of Teeth, by Sarah Gailey (Tor.com Publishing)

Listening to this now (via Hoopla) but it just is not grabbing me.  I'm finding excuses not to listen, which is always a bad sign.
Just not my cup of tea.  (2 stars)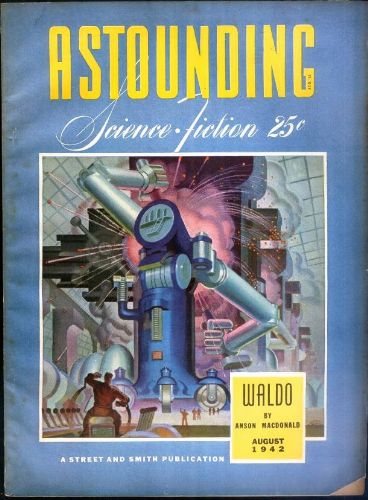 Retro Hugo Finalists:
Best Novella (1943)
"Asylum," by A.E. van Vogt (Astounding Science Fiction, May 1942)

Included in the Adventures in Time and Space anthology
Read this 5/1/2018 through 5/3/2018; liked it despite having completely unbelievable science; yet another take on vampires with a hyper-intelligence twist. (3-3.5 stars)

"The Compleat Werewolf," by Anthony Boucher (Unknown Worlds, April 1942)

ILL request for the anthology of the same name made earlier this week; received 4/9/2018
Read 4/20/2018; really liked it. Great characterization and a better, kinder view of the werewolf myth. (4 stars)

"Hell is Forever," by Alfred Bester (Unknown Worlds, August 1942)

ILL request submitted for Starlight: The Great Short Fiction of Alfred Bester earlier this week; received 4/9/2018; returned 4/12/2018
Read April 11th and 12th.  Good writing.  I could see this being made into a short TV series.  Horrors of their own devising.  (3.5-4 stars)

"Nerves," by Lester del Rey (Astounding Science Fiction, September 1942)

Included in the Adventures in Time and Space anthology
Started reading 4/13/2018
Finished reading 4/19/2018; Liked it (3.5 stars)

"The Unpleasant Profession of Jonathan Hoag," by John Riverside (Robert A. Heinlein) (Unknown Worlds, October 1942)

Included in the Fantasies of Robert A. Heinlein anthology
Read 5/25/2018; Wow! Heinlein impressed me with this story. More character driven than what I've previously read by him. And I loved the twisty ending. (4.5 stars)

"Waldo," by Anson MacDonald (Robert A. Heinlein) (Astounding Science Fiction, August 1942)

Included in the Fantasies of Robert A. Heinlein anthology
And I think I've already read "Waldo" as the title seems vaguely familiar.  I'll know when I start reading it.
Read 5/22/2018; I was liking this story until the last bit which took a left turn. (3-3.5 stars)