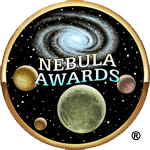 Today, the president, John Scalzi, of the Science Fiction & Fantasy Writers of America (SFWA for short) announced via his Whatever blog this year's (or last year's depending on your point-of-view) Nebula Award nominations.  Sadly, I have yet to read any of the novels, novellas or novelettes nominated, but I will review my GoodReads friends' reviews and ratings to see if any of them might appeal to me.
I was pleasantly surprised when I realized I had seen all but two of the nominations for dramatic presentations, one of which (Hugo) I had already added to my 'to watch' list and saved in my Netflix queue.
Here are the nominees for the Ray Bradbury Award for Outstanding Dramatic Presentation:
Attack the Block, Joe Cornish (writer/director) (Optimum Releasing; Screen Gems)
Captain America: The First Avenger, Christopher Markus, Stephen McFeely (writers), Joe Johnston (director) (Paramount)
Doctor Who: "The Doctor's Wife," Neil Gaiman (writer), Richard Clark (director) (BBC Wales) … I actually preferred a different episode last season, but here are my original thoughts on 'The Doctor's Wife' when it aired last May.
Hugo, John Logan (writer), Martin Scorsese (director) (Paramount)
Midnight in Paris, Woody Allen (writer/director) (Sony) … I just watched this recently and you can read my thoughts on it here.
Source Code, Ben Ripley (writer), Duncan Jones (director) (Summit)
The Adjustment Bureau, George Nolfi (writer/director) (Universal)
I am completely unfamiliar with the first listing, so I plan to do some research on it and, if possible, add it to my queue.  Then, I can do my own internal voting and compare it to the results arrived at by members of the SFWA.