For the past eighteen months, the Void that is my job, sucked all my spare time and forced me to back-burner several personal projects, including a deep dive into all things Tolkien.  Back in May of 2017, I had just discovered the local chapter of the Tolkien Society, the Smial of the Withywindle.  Oddly, they were finishing up their group read of Dune by Herbert, which I had also recently re-read via an excellent audiobook edition.  Over that summer, we read The Tolkien Reader and Tree and Leaf.  I threw in Humphrey's J.R.R. Tolkien: A Biography for good measure.  I kept up with our other group readings, but the work project increasingly encroached on my reading time.  I also didn't let my employment interfere with our inaugural MiddleMoot on October 6, 2018.
Within a week, I will have reached the final milestone of my epic project and can return to a somewhat slower pace at work.  And not a moment too soon, since the Tolkien Society of Kansas City is also doing a 'deep dive' into The Lord of the Rings by reading, concurrently, The Fellowship of the Ring and The Return of the Shadow.  For the first month (November), our plan is to read the first four chapters of each book and discuss it at our next meeting on November 30th.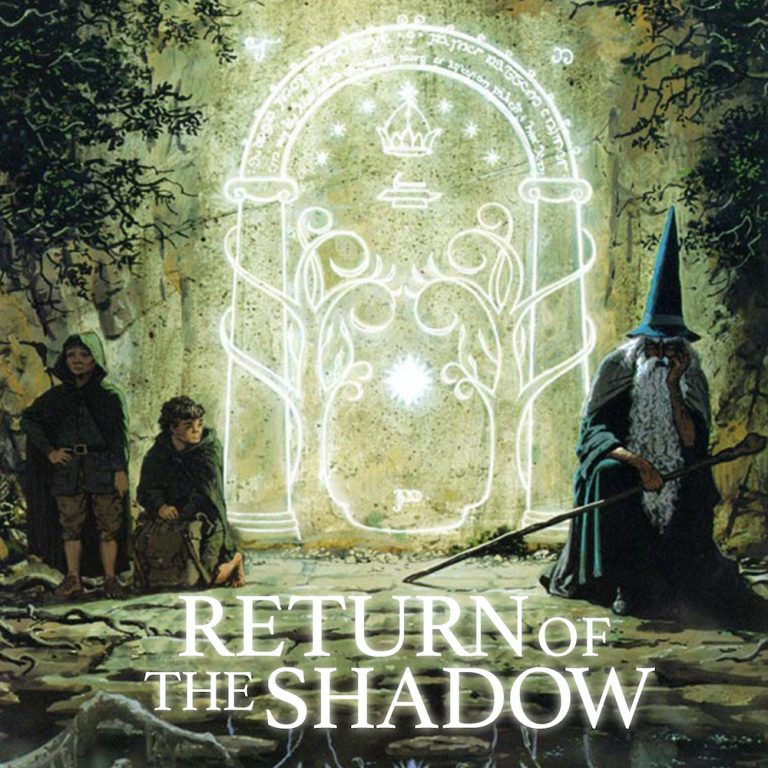 We also plan to watch or listen to the Mythgard Academy seminar for The Return of the Shadow.  I recently had the privilege of meeting Dr. Corey Olsen at MiddleMoot.  He gave an excellent key note and a supplementary lecture at Prospero's Book Store that same weekend.  I started watching the first session of the seminar, entitled "In Search of a Sequel," a few days ago but had to press pause when we finally reached the second slide of his presentation … a full 40 minutes into the session!  So fair warning.
After pausing Dr. Olsen's announcements and opening remarks, I went in search of a companion podcast and came ashore in Season Three of the Prancing Pony Podcast.  I started listening to this podcast sporadically about the same time I discovered my local Tolkien Society Smial.  Is it irony, poetic justice or just plane fate that Season Three begins the journey through The Lord of the Rings?  Since I don't believe in fate, I vote for irony.
I skipped Episode 91, an interview with Tom Shippey, which opens Season Three, and dove right into Episode 92, which discussed Tolkien's translation of Beowulf. I followed that up immediately with Episode 93, which prompted me to buy yet another Tolkien reference book and drool over another, which I added to my wishlist at the Book Depository.
Last weekend, I was able to read through the end of the first chapter in both books.  I knew if I didn't get a head start, I would immediately fall behind the group, especially since the next weekend I will be working very long hours as we finalize and deploy the epic project at work.  We will decide, after Thanksgiving, during our first discussion, if four chapters in two books proves to be too much reading every month.  I will pace myself, as it's difficult for me to read slowly.  By adding in the Mythgard Academy seminar and returning to the Prancing Pony Podcast, I think I can turn this into a marathon instead of a sprint.  If I focus on reading on the weekends, I can spend quality time in my car with either Dr. Olsen or Alan and Shawn.
I find myself unable to adequately explain how relieved and enthused I am to be returning to my Tolkien deep dive. My heart needs this reprieve from reality. But I will spare you the soup makings here at my blog, devoting my in depth comments to the discussion boards of our GoodReads group.  I will occasionally return here and report the highlights of my journey there and back again.  Until we meet again, may the stars shine upon your faces.
⊕⊗
"I don't know half of you half as well as I should like; and I like less than half of you half as well as you deserve."
— J.R.R. Tolkien, The Fellowship of the Ring, Book One, Chapter 1 A Long-Expected Party
⊕⊗
My GoodReads status updates:
https://www.goodreads.com/user_status/show/194030450
https://www.goodreads.com/user_status/show/194022799