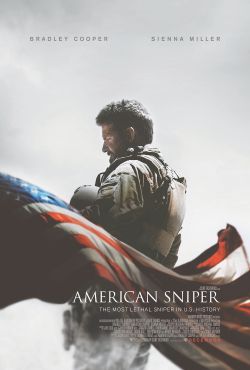 American Sniper (2014)
Directed by Clint Eastwood
Watched with husband in theater on Monday January 19, 2015
Rating:  4 out of 5 stars
Synopsis (via Wikipedia):
American Sniper is a 2014 American biographical war drama film directed by Clint Eastwood and written by Jason Hall. It is based on Chris Kyle's autobiography American Sniper: The Autobiography of the Most Lethal Sniper in U.S. Military History. With 255 kills, 160 of which were officially confirmed by the Department of Defense, Kyle is the deadliest marksman in U.S. military history. His widow Taya Renae Kyle was heavily involved with the making of the film.
My Thoughts
To be completely honest, I did not plan on seeing this movie in theaters.  We recently upgraded our home entertainment system (by remodeling the family room which spent nearly ten years as a rock band rehearsal studio) and find it less compelling to spend nearly $50 to 'enjoy' a movie in an actual movie theater.  I hadn't even seen any trailers because I rarely watch television and when I do, I fast forward through all the commercials.  But an eye-catching Tweet popped up in my newsfeed that piqued my interest.  It was the one penned by Michael Moore espousing that 'snipers are cowards.'  I particularly like Newt Gingrich's quick reply that Michael should spend some time in terrorist controlled zones to better appreciate our defenders (see CNN's article for more on this controversy).

Now this film had my immediate attention.  I watched a trailer on my smartphone.  I asked Terry if he felt up to going to the movie at our favorite theater (Legends 14) and he agreed.  I'm always interested in seeing films directed by Eastwood, so I had high hopes and expectations walking into the theater.
I'm giving this film four stars (instead of five) because I believe it is a good film, a very good one.  But I don't believe it's Eastwood's best work nor do I feel it's a great film.  I may eventually change my mind.  I'm still thinking about this film two days later.  I mentioned that I had seen the film to one of my vanpool riders (three out of four of my riders are veterans by the way who all recently served).  I told him what I just wrote at the beginning of this paragraph but I couldn't articulate more.  I needed more time to process.
I mentioned to Terry on the drive home from the theatre that I thought Lone Survivor actually was a better story, even though I absolutely despise Mark Wahlberg.  My favorite character in that film was Matthew "Axe" Axelson (portrayed by Ben Foster).    That film conveyed more of the moral morass our soldiers can stumble into while attempting to complete their missions.  It's very similar to your standard fantasy quest tale where you journey somewhere to capture and/or destroy something and you may or may not make it back home.  Only this isn't a fantasy … it's all too real, especially for the Navy SEALs in Afghanistan.  In contrast, American Sniper is obviously focused on one individual (Chris Kyle) and his story, so we get a lot of character development as we watch him change from Texas cowboy to legendary sniper. Once I got home I researched more on Chris Kyle and learned he was a friend of Marcus Lutrell and this friendship spurred Kyle to write his autobiography which resulted in this movie.
Closing Thoughts
Last night I couldn't sleep (for the second night in a row) and woke up at two o'clock.  I decided to try to read myself back to sleep so I started Part II of Testament of Youth by Vera Brittain.  I almost burst in to tears when I read this passage:
"… we found, surrounded by torn bills and letters, the black manuscript note-book containing his [Roland's – her recently deceased fiance'] poems.  On the fly-leaf he and copied a few lines written by John Masefield on the subject of Patriotism:
'It is no a song in the street and a wreath on a column and a flag flying from a window and a pro-Boer under a pump.  It is a thing very holy and very terrible,  like life itself.  It is a burden to be borne, a thing to labour for and to suffer for and to die for, a thing which gives no happiness and no pleasantness — but a hard life, an unknown grave, and the respect and bowed heads of those who follow.'"
For all of our serving military men and women and veterans, thank you for living the 'hard life' and you will always have my respect.